Description
7-Color LED Light Therapy Mask
Experience the benefits of LED Light Therapy at home! This is one of the most exciting and effective skincare breakthroughs available today! Now, in the comfort of your own home, use the same high-end technology that spas and skincare centers offer their clients.  Treat a wide variety of skin ailments easily and enjoyably without breaking the bank.
LED (light-emitting diode) therapy works by exposing the skin to various visible infrared light wavelengths and colors.  LED wavelengths release photon energy which is extremely beneficial to the skin. The colors are created from light-emitting diodes usually in the form of small, powerful, bright, non-heating bulbs or lamps. Each color wavelength penetrates the skin at different levels to treat an array of skin conditions and boost overall skin healing.
LED light technology has been used by NASA and is backed by decades of scientific research.  And now you can experience the same amazing benefits of LED Light Therapy from the comfort of your house.  Its consistent use aids in improving such issues as acne, fine lines and wrinkles, pigmentation, and elasticity. LED light treatment most commonly use red and/or blue light.  However other colors are involved as well, each with its own specific purpose.
Just a one-time investment  to achieve a life-time of benefits!
Package Includes
1  Professional 7-Color LED Light Therapy Mask (Face & Neck Set)
1 Remote Control
1 Power Adapter (US format)
7 Removable Electrodes
1 Instruction Manual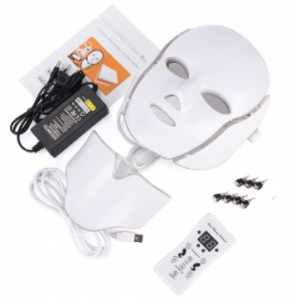 The multiple LED lights in this mask can emit seven different colors and wavelength combinations:
Color
Wavelength

(nanometers)

Treatment
Red
630
Increase collagen

Smooth and firm skin

Stimulate skin cells

Reduce wrinkles and lines

Blue
415
Treats acne bacteria

Calms rashes, redness, irritations

Tighten loose skin

Green
525
Regulates melanin production

Smooth wrinkles and fine lines

Reduces pigmentation and redness

Treats wounds

Cyan
490
Reduce skin inflammation

Improve oily skin

Yellow
450
Eliminates toxins

Fades dark spots, freckles, blemishes

Improves skin circulation

Purple
390
Dual band of Blue and Red

Improve lymph nodes

Shrink pores

Reduce wrinkles and fine lines

Treat premature acne

White
Mix
Activates and relaxes renewal system

Improve signs of aging

Promotes younger, healthier skin
USE:
Choose the LED light color recommended for your need or purpose.  Select your settings and time.  Use for 15 – 30 minutes per day.
Galvanic attachments (6) help bind moisture, products penetrate, rejuvenates the skin.
BENEFITS:
Stimulates collagen growth
Treats mild to moderate acne
Firms and smooths skin
Improves skin tone and elasticity
Reduces wrinkles and fine lines
Improves spots and scarring
Tighten pores